Two years ago, Sonya Patel '09 traveled to the West Bank for a month following her first year at the University of North Carolina at Chapel Hill School of Medicine. Patel was part of a team of international medical students selected to participate in the Refugee Camp Project.
During their time in Palestine, Patel and her team planned to work on a project focused on the mental health of children in refugee camps and specifically how the stress of their situation affected them psychologically. However, given the short duration of the program, the team altered their initial plan and instead gathered demographic information on families served by the United Nations Relief and Works Agency.
The Refugee Camp Project, sponsored by the International Physicians for the Prevention of Nuclear War and the International Federation of Medical Students' Associations, exposes participants to conditions in refugee camps, provides medical assistance to refugees, and ultimately works towards non-violent solutions to conflict.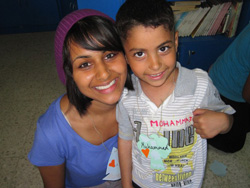 Sonya Patel working with children in the West Bank.
Now a third-year medical student, Patel's experience in the Middle East has grown into an interest in global public health, with a focus on Palestine. Next year, Patel will return to the West Bank with faculty member Dr. John van Aalst.
Dr. van Aalst is a plastic surgeon who visits Palestine twice a year to perform cleft palate repairs and train Palestinian doctors on these procedures. He also initiated a congenital anomalies database in the West Bank.
Patel plans to expand the birth defects database and incorporate refugee populations. She will be engaging in hands-on fieldwork and overseeing data collection at several Palestinian sites, including refugee camps. Patel sees this project developing into the framework for a Palestinian national health care registry.
"The idea is that this database will be adopted by the government, and that children born with these defects will be documented at birth," says Patel. "Many people think that cleft lips and palates are cosmetic issues, but they play a huge role in one's ability to feed and are problematic for children living in a region with political turmoil."
As a biomedical engineering major at NC State, Patel was one of the first Park Scholars to participate in the Brody-Park summer internship program at the East Carolina Heart Institute at East Carolina University.
"The internship was my first true taste of clinical research, with great experiences in the operating room and training labs, along with the chance to interact with doctors and public health workers," says Patel.
Patel attributes her interest in serving others abroad from her past travels to Costa Rica, El Salvador, Ethiopia, India, and Mexico. In 2008, Patel participated in the Multidisciplinary International Research Training Program through the University of Washington. While in Ethiopia with the program, she gained a greater awareness of the intersection between health and human rights by performing research on sexual harassment and workplace abuse among female faculty members at a local university.
"Health is a human right — in that way, to practice medicine is to abide by one's right," says Patel. "There are many barriers to accessing that right — law, war, and poverty. I love medicine and want to see that science and that art applied to everyone, not just those who can afford it."