Alyse Flick '13 was recently awarded the Mathews Medal, the highest non-academic distinction presented to students who have made significant contributions to NC State University throughout their undergraduate career.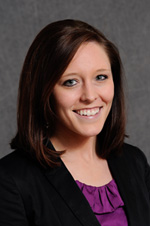 2012 Mathews Medal recipient Alyse Flick.
Flick is majoring in biological sciences with a concentration in human biology. She has conducted research in the evaluation of neurological cell function in optic nerves with Dr. Bob Grossfeld, a professor in the Department of Biology and a Park Faculty Scholar for the Class of 2012. In addition, Flick has more recently been involved with diabetic education development research at Family Medical Associates of Raleigh.
She has served in a leadership capacity with several organizations on campus. As president of the Pre-Health Club, Flick increased membership from 100 to over 1,000 active members. She executed a unique foundation for the club by providing members with opportunities for service, finding areas of the healthcare field about which members are passionate, and successfully encouraging members to become future healthcare graduate program applicants.
"During my time as president, each interest group planned and developed at least one service program each semester — increasing our community outreach projects over tenfold," says Flick. "Last year, our minority interest group also took lead roles in planning two minority campus awareness events."
Flick was also pivotal in establishing Imagine No Hunger, an organization which distributes over 100 bag lunches to the homeless community in downtown Raleigh each Sunday.
"Many think the issue of hunger is not a significant problem in our community, but every weekend Imagine No Hunger reminds me just how real and close to home the problem really is," says Flick.
Flick has also served as president of the Pre-Med Interest Group and as communications chair for the Alumni Association Student Ambassador Program.
As a board member and student coordinator of Hearts With Haiti, Flick plans to return to Haiti for the third time later this spring. While there, she will contribute to ongoing rebuilding efforts following the January 2010 earthquake. On a broader scale, she hopes to connect NC State alumni physicians with current pre-medical students within the scope of international health outreach.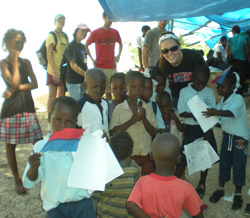 Alyse Flick working with children in Haiti.
Flick credits her leadership and service involvement at NC State with having strengthened her educational journey. To continue her commitment to serve NC State, Flick plans to be an ambassador for the university within the healthcare community after completing medical school. She feels that the medical alumni from NC State can provide many resources and serve as mentors.
"I will continue to dedicate my time, service, and passion to NC State for many years to come after I graduate," says Flick.
The Mathews Medal honors graduating seniors who have made significant contributions to NC State. The award is named for Walter J. Mathews, the first student enrolled at the North Carolina College of Agriculture and Mechanic Arts in 1889. The medal recognizes seniors who have built a campus legacy based on leadership and service. Mathews continued his involvement with the university as an active alumnus, and this award encourages the student recipients to envision themselves as the alumni leaders of the future. It is modeled after the Watauga Medal, the highest non-academic award given to alumni who serve their alma mater.