Garnered by his commitment to disband misconceptions about public health and promote knowledge in that field, Justin Hills '14, a biological sciences major with a concentration in human biology, has been named a participant of the Minority Health International Research Training (MHIRT) Program. Hills will spend 12 weeks this summer in Kumasi, Ghana through the MHIRT Program.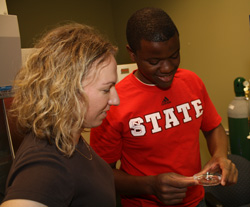 Justin Hills in the Dunn Lab under the guidance of Holly Menninger.
The MHIRT Program is part of a long-term strategy to establish a group of biomedical, behavioral, and social science researchers working to reduce, and ultimately eliminate, the health burdens among underserved populations in this country. The National Institute on Minority Health and Health Disparities, a component of the National Institutes of Health, invites undergraduate and graduate students in the health professions who are underrepresented in science fields or are from health disparity populations to apply for the MHIRT award.
"Given the remarkable opportunity to become a 2012 Minority Health International Research Training Program participant in Kumasi, I firmly believe that I will be able to grow in the research methods and sciences of protecting, educating, and inspiring people to live healthier lives," says Hills.
Hills' primary duty will be to assist a team of researchers studying the association between aflatoxin and liver disease and cancer in Ghana at the Komfo Anokye Teaching Hospital. Hills intends to engage in local service work in Kumasi during his time outside the program.
Hills originally learned about the summer experience through a conversation with Park alumna Nicole Mack '11.
The summer working with the research team in Ghana will allow Hills to build upon his previous work in the NC State Dunn Lab with Department of Biology Assistant Professor Rob Dunn and Research Associate Holly Menninger.
"Justin has assisted with many different aspects of Dunn Lab research — from assembling citizen science project kits to writing a blog post for our website," says Menninger. "He approaches his work with enthusiasm, professionalism and a natural curiosity — attributes that will certainly carry him far as he pursues a career in science and medicine."
The Dunn Lab is involved with the ecology and evolution of everyday species. Research projects have involved a study of the impact of experimental warming on animals, microbes, and plants funded by the Department of Energy and National Science Foundation; and a study supported by the Howard Hughes Medical Institute to involve the public in looking at the biodiversity that lives on our bodies and in our houses.
"Working in the Dunn Lab has afforded me an exceptional opportunity to understand the mechanics of citizen science and its potential benefits to our world," says Hills. "I believe that if we inspire people to find wonder and amazement in hands-on scientific research, revolutionary lifestyle changes can occur that will alter the prevalence of common complications in nutrition, reproductive health, and even chronic disease."
After graduating from NC State, Hills plans to pursue a career in the public health arena and become a change agent for minority health disparities.
"Investigating and understanding how health epidemics such as diabetes, hypertension, and HIV/AIDS are disproportionately affecting minority communities is the primary source of my yearning to become a professional in the field of public health," says Hills.