Learning Laboratory I is an experience that allows Park Scholars to study leadership through the exploration of an issue facing the state of North Carolina.
The Class of 2015 traveled to sites in Chatham, Surry, and Wake Counties to learn about the impact community colleges and small businesses have on North Carolina in the areas of economic and environmental sustainability, along with the challenges that leaders in these areas are facing.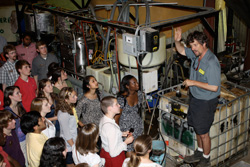 Piedmont Biofuels President Lyle Estill describes the biodiesel production process.
"The speakers we heard from were truly innovative leaders in the area of ecological economic success," says Devan Riley '15. "Learning Lab I was a rewarding experience that opened the minds of Park Scholars to new possibilities for leadership in their own communities."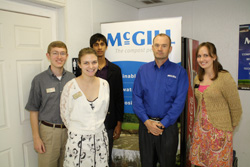 Jim Turner '15, Frankie Johnson '15, Ishan Raval '15, and Ashley Butler '15 with McGill Environmental Systems President Noel Lyons.
During their trip, students visited McGill Environmental Systems, Piedmont Biofuels, and Shelton Vineyards and learned about how composting biodegradable materials from industrial sources, converting waste products into biodiesel, and cultivating grapes instead of tobacco are transforming North Carolina's economy.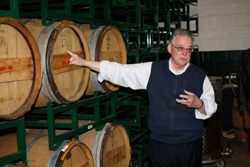 Shelton Vineyards Co-Founder Ed Shelton explains how grapes have replaced tobacco in areas of Surry County.
Prior to embarking on the experience, President of the North Carolina Community College System Scott Ralls spoke with the class about how community colleges across the state are preparing the workforce for green jobs.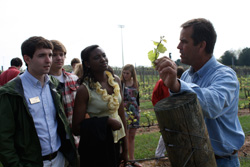 Surry Community College instructor Gill Giese discusses viticulture with Ryan King '15, Coy Buchanan '15, and Chelsea Gardner '15.
The class also visited Central Carolina Community College, Surry Community College, and Wake Technical Community College where they gained insight into how one of the nation's largest community college systems is integrating sustainability concepts and skills into the curriculum. These sustainability initiatives are providing tomorrow's green workforce with highly specialized credentials to seek careers in areas such as biofuels, mass transit, viticulture, and wind power exploration.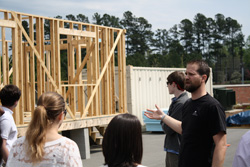 Central Carolina Community College instructor Andrew McMahan describes the construction of green buildings.
"Our committee developed this opportunity for our class so that we could learn from the individuals, organizations, and policies that are influencing positive change in creating both economic and environmental sustainability in the state," said Learning Laboratory I Committee Co-Chair Jessica Miller '15. "In the process, we explored how we as leaders can play a role in moving North Carolina towards a greener economy."
Learning Lab I Guest Speakers
David Bower, Enology Instructor, Surry Community College
Lyle Estill, President, Piedmont Biofuels
Gill Giese, Viticulture Instructor, Surry Community College
Butch Grove, Dean of Sustainability, Wake Technical Community College
Laura Lauffer, Sustainability Coordinator and Lead Instructor, Central Carolina Community College
Noel Lyons, President, McGill Environmental Systems
Andrew McMahan, Code Green Super Curriculum Integration Project Energy Sector Director, Central Carolina Community College
Scott Ralls, President, North Carolina Community College System
Ed Shelton, Co-Founder, Shelton Vineyards
Learning Lab I Committee
Carter Ellis '15, Co-Chair
Jessica Miller '15, Co-Chair
Selena Amatya '15
Coy Buchanan '15
Ashley Butler '15
Chelsea Gardner '15
Jim Turner '15
Lianne Cartee, Park Faculty Scholar
Barry Croom, Park Faculty Scholar
Bob Frigo, Assistant Director, Park Scholarships