In her efforts as a nutrition sciences major to address malnutrition in developing nations, Becky Dobosy '14 never expected to find herself in Western Europe, let alone Rome.
As a member of the Alternative Service Break Italy team, Dobosy crossed the Atlantic to spend her spring break on a service-learning experience focusing on world hunger. Rome serves as the headquarters for the world's leading international agricultural organizations that work to alleviate world hunger and promote sustainable development.
Dobosy outside the World Food Programme headquarters.
Over the course of the week, Dobosy and 14 other NC State students learned from officials representing United Nations agencies such as the Food and Agriculture Organization, International Fund for Agricultural Development, and World Food Programme, along with staff from the United States Mission to the United Nations. Officials shared their views on hunger, what they see as the most pressing needs, and how their organizations are working with the international community to meet those needs.
"By interacting with organizations whose work ranges from microlending to emergency food aid, I was exposed to wide range of angles from which to approach the issue of hunger," says Dobosy. "One of the recurring themes mentioned by staff in the agency meetings was the need to incorporate a greater focus on sustainability in their efforts — this vision to develop long-term programs helped validate my course of study with its focus on sustainability and total community engagement."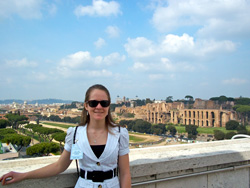 Dobosy on the veranda of the Food and Agriculture Organization.
In addition to learning about the agencies behind global food policy, Dobosy engaged in service at Caritas, a homeless shelter located in central Rome. The group assisted with serving the evening meal and with laundering clothes. While serving the clients, students had the chance to hear stories of how hunger has affected individuals in countries ranging from the Democratic Republic of the Congo to Peru. Friendships formed with clients at Caritas helped put a face on the complex topic and the actual impact of international food policy.
"Fighting malnutrition has always been my passion in studying nutrition," says Dobosy, "but I've previously had such a location-specific view of hunger from my limited experiences in Nicaragua and Guatemala."
Her time in Italy also provided opportunities to network with professional contacts for potential internships and employment. Upon her return to campus, Dobosy began pursuing an internship at the World Food Programme through connections made during her visit to Rome.
"Although I never thought to aim for an internship with such a globally renowned organization, our trip has made a position with the World Food Programme much more of a reality for me in the coming years," says Dobosy.
Members of the Alternative Service Break Italy team atop the Monumento Nazionale a Vittorio Emanuele II.
Dobosy is currently researching graduate programs in international nutrition to prepare her for the future. This summer, Dobosy will work with the Center for Environmental Farming Systems to gain experience with community nutrition outreach and sustainable agriculture practices. With a solid foundation in long-term community development, Dobosy plans to advance sustainable practices in the global fight against hunger.
The Alternative Service Break program is coordinated by the Center for Student Leadership, Ethics, and Public Service. This service-learning program allows students to engage in direct service to a community and experience the culture and customs of that community. Each team is led by student leaders in coordination with a faculty or staff advisor.
Dobosy was awarded a Park Enrichment Grant to help fund her experience in Rome.