A total of 2,000 volunteers registered to participate in the annual Service Raleigh event on March 24.
University and community volunteers began the day with a celebration on the NC State campus and then spread across central North Carolina to participate in over 70 service projects.
Teams built compost bins, cleared hiking trails, sorted donated furniture, assessed the conditions of neighborhood sidewalks, and restored natural habitats for wildlife and scientific research. Organizations that hosted projects this year included the American Red Cross, North Carolina Museum of Natural Sciences, Ronald McDonald House of Durham, and Trees Across Raleigh.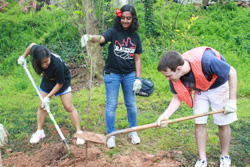 Nancy Thai '14, Meera Venkataraman '14, and Matt Farrell '14 plant new saplings with Trees Across Raleigh.
Service Raleigh began in 1998 as a collaborative project between Student Government and Park Scholarships. The event has grown to become the largest student-coordinated service endeavor in the Triangle area.
The 2012 event was led by student co-chairs Diana Beck, Mary Charles Hale '13, and Pooja Sarin '13, along with a dozen committee heads and countless committee members.
"Pooja, Diana, and I are grateful to all of our committee members who coordinated this event, and especially to all of the volunteers who came out to serve, despite the rainy weather," said Hale. "Service Raleigh displays just how committed NC State students are to serving and engaging with the Raleigh community."
Events like the Krispy Kreme Challenge, Service NC State, and Service Raleigh are prime examples of the Wolfpack's commitment to serving others. This commitment was recently recognized when NC State was one of five institutions in the nation named to the 2012 President's Higher Education Community Service Honor Roll for its efforts in the areas of volunteering, service-learning and civic engagement. This award was presented by the Corporation for National and Community Service and the U.S. Department of Education.