As an environmental engineering major, Dylan Cawthorne '14 knows he would like to like to work with an engineering consulting firm after graduation. However, he has yet to decide if he wants that job to be on the technical or policy side of environmental engineering. Cawthorne is also uncertain if he wants to focus on promoting sustainability in water consumption, waste flow, or renewable energy sources.
Fortunately, Cawthorne has assembled a group of faculty to provide support during the next few years at NC State and assist him in navigating postgraduate opportunities and career options.
Detleff Knappe in the Department of Civil, Construction, and Environmental Engineering is Cawthorne's Park Faculty Mentor. Knappe has been a member of the NC State faculty since 1996. For the past 20 years, he has been engaged in research on water treatment processes. Knappe is an associate editor for the journal Water Science and Technology, a topical editor for the open access journal Drinking Water Engineering and Science, and a member of the American Water Works Association Standards Committee for Activated Carbon.
"Dr. Knappe has been my guide through my major thus far," said Cawthorne. "He has been a great resource for navigating the environmental engineering program and has given me valuable advice concerning my academics."
Cawthorne is currently involved in an undergraduate research project focusing on energy systems modeling with Joe DeCarolis, also a faculty member in the Department of Civil, Construction, and Environmental Engineering. DeCarolis's research program incorporates addressing energy and environmental challenges at the intersection of engineering, economics, and public policy. In addition, he is involved with projects that include the economics of off-shore electricity storage and solid waste management.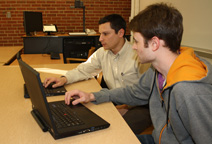 Dylan Cawthorne and Joe DeCarolis review energy systems data.
"We started working together last semester on energy systems modeling through the use of data-intensive EPA workbooks," said Cawthorne. "Dr. DeCarolis has given me a great introduction to what working with faculty in a research capacity is like and also insight into how complex the energy structure is in the United States."
Cawthorne plans to work with DeCarolis and graduate student Jim Levis to co-author a paper that presents a way to simplify technology-rich energy system models using a method called "set covering."
To prepare for a recent trip to Sierra Leone with the NC State chapter of Engineers Without Borders, Cawthorne and Bryan Peele '12 worked with Gregory Buckner in the Department of Mechanical and Aerospace Engineering and a member of the Park Scholarships Advisory Committee. Buckner worked with the chapter's Sierra Leone Renewable Energy committee on the finer points of grant writing — a collaboration that helped make it possible for Cawthorne and Peele to travel to the west African nation this past winter to lay the groundwork to develop an independent energy system at the LemonAid Village School in Lower Allentown.
In addition to Knappe, DeCarolis and Buckner, Cawthorne also has two faculty members who work with his Park Scholarships class. Jim Martin in the Department of Chemistry and Jocelyn Taliaferro in the Department of Social Work provide guidance for Cawthorne and the members of the Class of 2014 on academic matters and enrichment activities.
As Cawthorne continues to work under the guidance of these faculty, his plans following graduation should soon become clear.