According to the United Nations Children's Fund (UNICEF), 65,000 of Ukraine's 9 million children live in orphanages, shelters, and boarding schools run by the government. Over the last decade, the number of children living in Ukrainian institutions has doubled; this high rate of child abandonment is attributed to factors such as poverty, unemployment, and substance abuse.
"It is pure joy for our team when we can see that our efforts have kept even one of these precious children from becoming a statistic," said Amanda Shumaker '04, Redline United co-founder and program coordinator. Redline United is a nonprofit organization based in Raleigh dedicated to helping orphans of Ukraine.
Shumaker expertly balances her work with Redline United and her career with Ernst & Young as a certified public accountant in the area of international tax. She graduated from NC State with undergraduate and graduate degrees in accounting.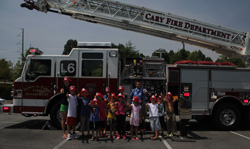 Amanda Shumaker and children from the orphan hosting program get a visit from the Cary Fire Department during camp.
Shumaker and husband Bryan first began working with orphans in Ukraine in 2007. They were struck by the emotional and physical needs of the orphans there and soon began making regular trips to that country to work with children. In 2009, they decided to take their volunteer efforts to the next level and founded Redline United.
In laying the foundation for the organization, the Shumakers knew that there would be challenges convincing American families to adopt pre-teen or teenage orphans, since many prefer infants. As a result, Redline United launched its orphan hosting program, where the organization coordinates home stays for Ukrainian children with families living in the Triangle.
"Our team decided that if families could spend quality time with these children, they could experience a living, breathing child in need of a family," said Shumaker. "The program gives families a chance to meet children who they may consider adopting; however, it is not necessary for a family to plan to adopt to be able to host a child in their home."
In July, Redline United will hold its third annual orphan hosting program in central North Carolina.
The organization also supports local staff and volunteers in Ukraine who pay weekly visits to children living in orphanages throughout the country. For many of the orphans, the relationships formed during these visits are the only stable, loving connections they have with others. Redline United also works directly with the orphanages to meet physical needs, such as providing winter boots and provisions during times of food shortages.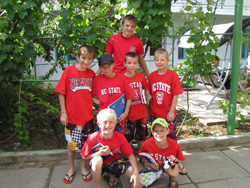 Children at an orphanage in Ukraine sporting Wolfpack gear donated by Redline United.
"With an estimated 143 millions orphans living around the world, we want people to see how they can play a role to address this crisis, one child at a time," said Shumaker.
Redline United is currently looking for host families for their 2013 summer program. The role of a host family is to be a loving advocate for their host child and allow the child the opportunity to experience daily life as part of their family. The organization runs a day camp during the program to allow families with working parents the opportunity to participate, and volunteers for the camp are also needed.