Brian Gaudio '13 and Kyle Thompson '13 were among four NC State students to win first place and best of show awards at the Walt Disney Imagineering ImagiNations Design Competition in February. Now in its 21st year, ImagiNations is a competition created by Walt Disney Imagineering to promote careers in creative fields and provide university students with the opportunity to gain design experience.
Students from across the country were challenged to create a new Disney entertainment experience for a human race living on the moon in the year 3011.
The NC State team, along with finalists from five other universities, traveled to Walt Disney Imagineering headquarters in California to present their project to a panel of executive judges. Projects were evaluated on the basis of team collaboration, mastery of individual skills, uniqueness, and overall appeal to future Walt Disney guests.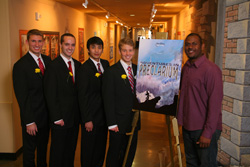 NC State Walt Disney Imagineering ImagiNations Design Competition team members Kyle Thompson, Michael Habersetzer, Andy Park, and Brian Gaudio with Imagineering mentor Billy Almon (left to right). Photo credit: Gary Krueger, Walt Disney Imagineering.
The team's concept involved an adventure where guests meet Molly Mouse, a descendant of Mickey Mouse, and work with her to defeat the evil supercomputer, Archillion. "The Mind of Molly Mouse is a dynamic, interactive experience, where participants travel between two lunar locations — Archillion City and Preclarium," said Thompson. "During this adventure, guests can create their own custom vehicle by scanning creatures and objects in the Disney park environment."
The Mind of Molly Mouse earned the team a $3,000 first place prize, and an additional $1,000 grant to be equally divided among their university and/or other sponsoring organizations. In addition to presenting their project, finalists interviewed for paid internships and networked with Imagineering professionals.
"The Imagineers we met in California were highly creative people who worked together with an incredible synergy I have never seen before," said Gaudio.
Gaudio is pursuing a bachelor's degree in environmental design in architecture and Thompson is working toward a bachelor's degree in aerospace engineering — each is keeping a future career with Disney in mind.
"As a design student, working at Walt Disney Imagineering would be a dream job," said Gaudio.
View the NC State Minds Over the Magic Kingdom story on the team.
Gini Gregg '11 contributed to this story.