Over 1,000 individuals from across the state participated in the 27th annual Emerging Issues Forum, an event hosted by North Carolina State University's Institute for Emerging Issues.
The theme for this year's gathering was "Investing in Gen Z." The Forum involved a series of talks, panels, and working sessions focused on changing the way that business, government, and education sectors operate to prepare the way for the 1.5 million members of Generation Z who will transform the state of North Carolina. Featured speakers included Idealist.org Founder and Executive Director Ami Dar, REI President and CEO Sally Jewell, Secretary of the Navy Ray Mabus, and North Carolina Governor Beverly Perdue.
"We want to have a conversation with Gen Z, not just about them," said Institute for Emerging Issues Director Anita Brown-Graham.
As a result, the Forum included 200 high school and university ambassadors. Among them, was the Class of 2015 Park Scholars who spent two days facilitating small group discussions, introducing speakers, and teaching participants how to engage with technology. Park alumnus John Coggin '09, who recently completed his graduate work at Harvard University and now serves as an Institute for Emerging Issues Fellow, worked with the ambassadors to prepare them for their roles.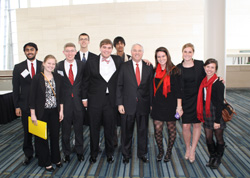 Chancellor Randy Woodson with members of the Class of 2015 at the Emerging Issues Forum.
Nathan Hansen '15, Jim Turner '15 and John Turner '13 were named finalists for the college division of the Emerging Issues Prize, which focused on increasing North Carolina's graduation rate. The team proposed a low-cost online open space for students to develop ideas that can be converted into real-world applications.
Adam Dunn '13 and Alton Russell '14 staffed a booth in the exhibition area sharing the success stories that their student-led organization, Triangle Youth Leadership Services, has experienced since the group's inception in 2009.
View the story by North Carolina Public Radio's Leoneda Inge about the Forum featuring Eni Ojo '15.
After attending the 2011 event, Wade Colburn '14 was named to the Emerging Issues Forum Working Group where he collaborated with educators, nonprofit leaders, and government officials in the months leading up to this year's Forum. The group identified outputs and challenges that need to be addressed for members of Generation Z and the state to be successful in the future.
Former North Carolina Governor Jim Hunt is the chair of the Institute for Emerging Issues, an organization designed to serve as a connection point for individuals from across the state to come together and focus on addressing present and future issues such as health care and creativity. Hunt's action-oriented philosophy is abundantly clear as he refers to the Institute not as a think tank, but as a "think and do tank."
The Class of 2015 looks forward to continuing their conversation with Hunt on ways to continue strengthening the state of North Carolina during his visit to their First-Year Seminar later this spring.