On a brisk Saturday morning in February, a record 7,700 participants took part in the Krispy Kreme Challenge — an event that included runners from as far away as Australia. The race raised more than $100,000 to benefit the North Carolina Children's Hospital.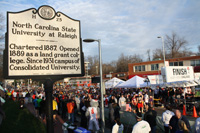 Runners on Hillsborough Street moments before the start of the race.
Participants had one hour to run 2.5 miles from the NC State Belltower to the Krispy Kreme store on Peace Street, consume a dozen doughnuts, and complete an additional 2.5 miles. Individuals also had the option to register as casual runners, who are not obligated to finish the doughnuts, or supporters, who do not complete the race but receive a shirt.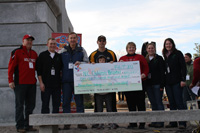 Event co-chairs and Chancellor Randy Woodson present a check to Dr. Wesley Burks of the North Carolina Children's Hospital.
This year, organizers worked in collaboration with the Raleigh Police Department to increase the length of the run from 4 miles to 5 miles for safety measures.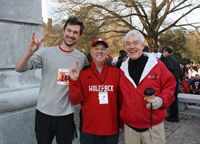 Krispy Kreme Challenge co-founder Greg Mulholland '07, Chancellor Randy Woodson, and Vice Chancellor for Student Affairs Tom Stafford.
The first Krispy Kreme Challenge took place at NC State in 2004, and the event has grown substantially since the first group of about 10 runners took to the streets of Raleigh. However, one thing has remained constant — the event continues to be organized, planned, and executed by students. The 2012 co-chairs, Alyson Harding '13, Brian Parham '11, and Emily Tucker '13, led a dedicated team of volunteers to continue this fine tradition.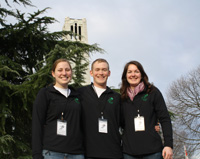 2012 Krispy Kreme Challenge co-chairs Alyson Harding, Brian Parham, and Emily Tucker as the race is underway.
"The Krispy Kreme Challenge brings people together to raise money for an incredible cause," said Tucker. "The committee that plans the race includes some of the hardest working people I've ever met, and it is through their efforts that we were able to put on another very successful year."
View CNN coverage of the Krispy Kreme Challenge
View the NC State University website story From Lark to Legend