The Park Scholarships Class of 2012 has selected James A. Joseph as the recipient of the William C. Friday Award.
Joseph will receive the honor on Wednesday, January 25, 2012 at 5:30pm on the North Carolina State University campus in the McKimmon Center. The evening will begin with a reception in his honor, followed by the award presentation and a lecture from Joseph.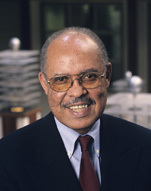 William C. Friday Award recipient Ambassador James A. Joseph.
Joseph was chosen by President Clinton to serve as ambassador to South Africa and he remained in this role from 1996-1999. He was awarded the Order of Good Hope from the Republic of South Africa, the highest honor presented to a citizen of another country.
Following this appointment, Joseph launched the United States – Southern Africa Center for Leadership and Public Values, a partnership between Duke University and the University of Cape Town, where he is currently Professor of the Practice of Public Policy Studies and executive director.
Joseph has held positions such as chairman of the board of directors of President Clinton's Corporation for National Service, undersecretary of the Department of Interior, and chief executive officer of the Council on Foundations. He served on the board of directors of the Brookings Institution, the National Endowment for Democracy, Africare, the Colonial Williamsburg Foundation, Pitzer College, and TransAfrica.
The William C. Friday Award is an annual honor presented by the senior class of Park Scholars on behalf of the entire program. This award honors Friday's dedication and excellence in leadership, scholarship, character, and service, and recognizes the awardee's contributions to North Carolina.
Past recipients include William Friday, NC State Chancellor Emeritus Larry Monteith, General Hugh Shelton, noted historian John Hope Franklin, SAS leaders Ann and Jim Goodnight, Geomagic CEO Ping Fu, and Special Olympics of North Carolina CEO and President Keith L. Fishburne.