This past summer, Dr. Lianne Cartee and Dr. Barry Croom began their roles as Park Faculty Scholars with the Class of 2015.
Cartee was born in Gulfport, Mississippi and received her bachelor's degree in biological engineering from Mississippi State University. She pursued her graduate work in the area of electrophysiology at Duke University, where she was awarded a Ph.D. in biomedical engineering.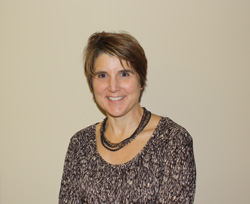 Park Faculty Scholar Lianne Cartee.
She later joined the Center for Auditory Prosthesis Research at Research Triangle Institute where she worked with cochlear implant devices and patients. While researching the electrical response of the cochlear nerve as she taught courses at Duke and NC State University, Cartee discovered her love for teaching and joined the faculty of the Joint Department of Biomedical Engineering at NC State and UNC-Chapel Hill in 2005.
Cartee now serves as a teaching associate professor and director of undergraduate studies in the Department of Biomedical Engineering, and her current research agenda focuses on electrophysiology and its application to cochlear implants. She is the recipient of the College of Engineering Outstanding Teacher Award and the George Blessis Advising Award.
Beyond working with the Class of 2015, Cartee is a Park Faculty Mentor to Sudeep Sunthankar '12 and John Yanik '12, and has been a mentor to Zachary Fleming '10, Monica Martin '10, Suman Medda '10, and Jordan Pung '10.
"I've been impressed by the culture of learning and giving that exists at all levels of the Park program from the Park Foundation to the program director, staff, faculty, and students—it's an honor to be part of the program," said Cartee. "I'm humbled by the thought of mentoring such outstanding students when there is so much that I can learn from them."