The Center for Student Leadership, Ethics, and Public Service named Michelle Phillips '14 and Alan Sheridan as the 2011 recipients of the Leader of the Pack award at this fall's homecoming game.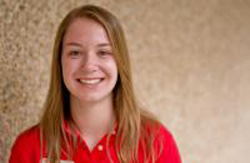 Leader of the Pack recipient Michelle Phillips.
The Leader of the Pack award recognizes students who make outstanding contributions to NC State University in the areas of leadership, scholarship, and community service. The first campus awards were presented in 1975. Fellow Park Scholars John Turner '13 and Ian Hill '13 were among the finalists in this year's competition.
Phillips, a sophomore majoring in mechanical engineering, is from Advance, North Carolina. She is a research assistant in the College of Engineering where she is responsible for calibrating and validating cyclical tensile strain bioreactors for the investigation of primary cilia in human adipose derived stem cells (hASC) and their role in osteogenic differentiation.
She also serves in roles representing her college and the University Honors Program. As an engineering ambassador, she helps recruit prospective students, assists new students with their transition to the university, and teaches K-12 students and their parents about engineering through hands-on activities.
Phillips is a mentor to first-year students in the University Honors Village and provides leadership to a community focused on inquiry, research, and discovery. She is an active member of the Honors Village Extension and Engagement Committee, a student-led organization tasked with managing internal and external service events for the 300+ students in the Honors Quad.
"I am committed to not only providing more service, but also providing more focus and effectiveness to our service efforts," said Phillips. "As a result, I have led the committee to adopt a focused cause this semester—advocating for the prevention of animal cruelty."
Last summer, Phillips volunteered at the Shelton Leadership Challenge as a Coach Mentor Trainer (CMT). Each CMT facilitates activities and reflections with high school youth during this residential program sponsored by the General H. Hugh Shelton Leadership Center designed to cultivate young leaders. "This was a life-changing experience for me," said Phillips.
Among her many accomplishments, Philips believes her most significant contribution to NC State thus far is an effort to bring together diverse talented students in the form of a new senior capstone program she is creating with the support of the University Honors Program, College of Design, and College of Engineering.
"Since NC State has nationally ranked programs in design and engineering, it only makes sense that our university should be on the forefront of merging these two specialties and gain synergy from joining the subjects," said Phillips. "This approach would be especially valued in the real world, where multi-specialty taskforces are often created to tackle the most pressing problems."
To accomplish this goal, Phillips has been working specifically with Dr. Larry Blanton, director of the University Honors Program; Dr. Jerome Lavelle, associate dean in the College of Engineering and Phillips' Park Faculty Mentor; and Dr. Kim Roberts '01, academic advisor in the College of Engineering and Park Scholarships alumna.
"I was so excited working with these administrators and faculty to launch this initiative that I have volunteered to lead the development of the pre-requisite course and even co-teach the course during my junior year," said Phillips.
After she graduates, Phillips plans to continue her work combining the worlds of engineering and design. While she is still fine tuning her career goals, designing roller coasters is one of the many options on the table.