After living through over half a dozen major hurricanes while growing up in Hawaii and North Carolina, Travis Miles '07 decided he wanted to spend his life exploring the atmosphere and the oceans. This past year, Miles spent several months in Antarctica to investigate how climate change impacts ecosystems on the frozen continent.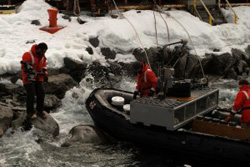 Miles (center) and Rutgers Antarctic team members loading a boat before sampling off Anvers Island, Antarctica.
Miles was based at Palmer Station, one of three American research stations located in Antarctica as part of the Palmer Station Long-Term Ecosystem Research (PAL-LTER) project. While there, he used small boats to collect physical and biological data and water samples from two different locations near the research base continuing a time-series of over 17 years aimed at quantifying the affects of climate change on the Antarctic ecosystem. In addition, Miles also deployed several autonomous underwater vehicles (AUVs) or gliders, each equipped with a series of sensors, to get a more accurate spatial and temporal idea of the current physics and biology of the Western Antarctic Peninsula ecosystem.
This initial data helped his team make preparations for a month-long research cruise along the peninsula to collect more robust and frequent data to add to the current 17 year time-series.
The Antarctica project is part of Miles's doctoral work in the area of physical and biological oceanography at Rutgers University. His research focuses on investigating how coastal storms influence the physics and biology on continental shelves. Miles relies on AUVs and coastal radar networks to assist with his data collection.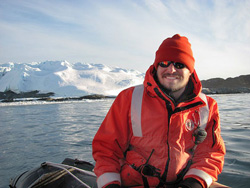 Miles gathering data in the team's Zodiac craft off the northern coast of Antarctica.
Miles completed his bachelor's degree in marine meteorology and his master's degree in physical oceanography at NC State. While he grew up in various locations in the United States, including Kansas, Illinois, and Hawaii, he calls Wilmington, North Carolina home.
Looking back on his time as a Park Scholar, Miles comments, "The Park experience has prepared me to take on challenges, academics, and research with an open and independent attitude."
After Miles completes his Ph.D., he plans to continue his research and teach on the university level. In the meantime, Miles is preparing to return to Antarctica this fall to spend four months with his research team.
To learn more about Miles and his Rutgers team, visit the group's blog entitled RUCOLD? Freezing in the Name of Science